Guilherme Kramer (Sao Paolo, Brazil b.1978) is a great and accomplished artist with a unique style I've never seen before.
The crowd is a common theme throughout Kramer's work and his eloquent and expressive lines are his companions that highlight each and every individual he creates. His work mostly develops from a black and white aesthetic and is derived from his inspiration of urban landscapes.
Living in bustling cities like Barcelona and Sao Paolo, Kramer as a result is inspired by the disordered rhythm of life and loses himself in the crowd which enables him to let it all out on his craft. He is also inspired by expressionism and Brazilian folk art as well as legendary artists such as Van Gogh and Francis Bacon.
I came across Kramer's work about a year ago and have been following his website and social media since then. I'm a massive fan and love the way he manages to shun the trap of monotony within his art. By drawing faces all the time, you'd think they'd all look so similar that everything would be consistent and "the same." Not in this case. Kramer approaches each piece differently and the results are so distinct from one another.
from the hair to droopy eyes to the evocative facial expressions, his work reveals the infinite personalities that we encounter in our day to day lives. and his colour palette adds to the vibrancy and diversity that reflects our nature and multiplicity as human beings, in individuality and complexity.
"we see people in the crowd"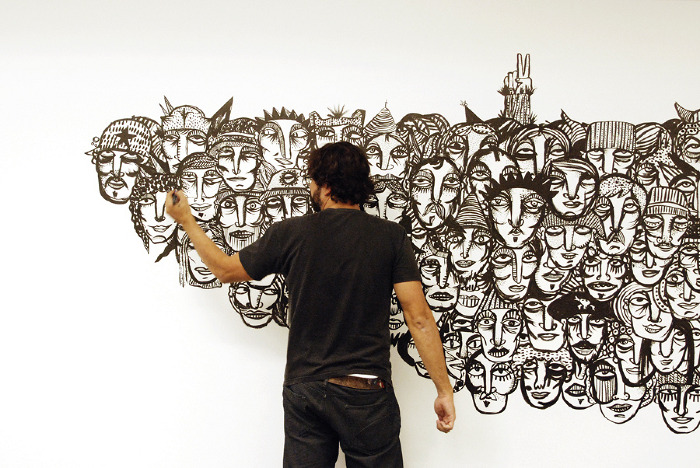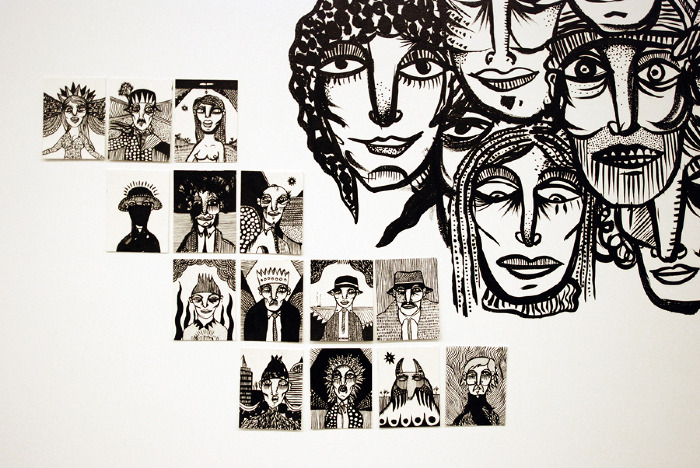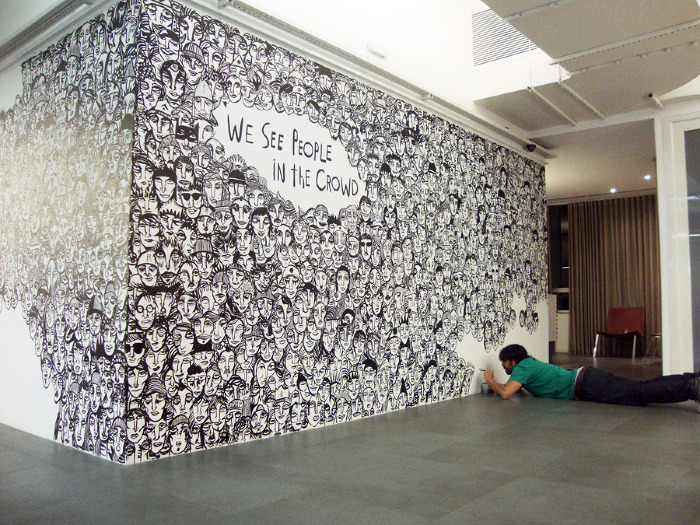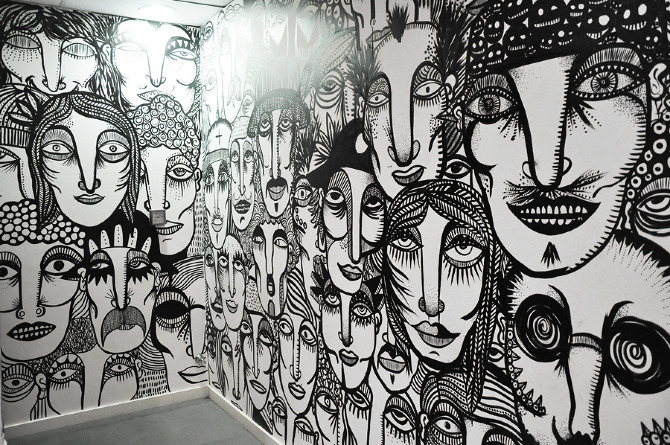 One of my favourite projects, "we see people in the crowd." For a year, Kramer decided to draw faces he sees everyday onto a giant wall in an office space in Sao Paolo. Day by day, growing face by face until he achieved his goal.
When you spend some time exploring some of the faces individually and focusing on the qualities and expressions Kramer gives them, they almost come to life; something which I think is very hard to achieve with only a black and white aesthetic.
This is what I meant about his distinct use of the same style. It may sound simple but I actually find it quite difficult, especially if you want each piece to be of the same quality. From the mediums to the techniques, each one so beautiful. And from watercolours, to graffiti murals, to mosaics and to oil paintings, Kramer has mastered so many areas while also maintaining his originality and individuality.
I feel like through every artist, there's always something to learn from the way they process their ideas to how they approach their work. Don't you think so?
What do you think about Guilherme Kramer's art?! Comment your thoughts.
To stay updated on Guilherme Kramer and his work, you can visit his website, follow his instagram account and his facebook page.
All images courtesy of Guilherme Kramer.